Heavy sigh... I can be my own worst enemy. Just ask me. A few weeks ago I had to replace the hard drive on my old computer, an operation that should have been quick, easy, and relatively painless. But in my never-ending efforts to "get something for nothing" I borrowed a friend's copy of Windows Seven, which he'd received when he bought his new computer.
Apparently, Bill Gates notices things like that. I was notified that I might be a "victim of counterfeit software" and needed to purchase an authorized copy of Windows Seven. They even gave a time limit in which to secure the new software before pulling the plug on my server.
So I did what any red-blooded American would do, I tried to go back to the previous version of Windows I'd used before getting the new hard drive. Not so fast, you red-blooded American. Getting Windows Seven off of a computer is not as simple as hitting "uninstall." They want you to upgrade whenever you're ready to shell out for the newest version, but they don't like it at all when you try to back down their evolutionary ladder to an earlier version.
So my lovely (and believe me, ever more dangerous) wife called a techie friend of hers to see if she knew how to wipe Windows Seven. We were informed that a person basically has to wipe their hard drive and start over to get rid of WSeven. She volunteered to come over and handle the wipe for us, but soon discovered it was much easier said than done. She ended up recommending a new computer, one complete with an installed version of Windows Seven.
It arrived this morning, about thirty seconds after I asked if my wife had an ETA on its delivery. She had no sooner replied that it should be coming "any day now" than the doorbell rang and a guy handed her my new computer. Things were looking up.
Now, in our house, doing "tech-like" things with the computer is something I leave to my better half. I can screw up a rubber ball, so keeping me away from the computer when it's in need of professional operator skills is a great idea. But, sadly, my wife had made plans for the day, so if I wanted this thing up and operational I would have to venture into the dessert alone.
I expected this to be a cluster-fuck of the nth degree, because everything I touch tends to turn to poop. And when I looked through the computer's box and saw that there was no owner's manual or instruction booklet for hooking the mo' fo' up, I figured I was in limbo until help arrived. This new Dell came from a "scratch and dent" division, and I guess they figured we were getting a great price and didn't deserve a manual with the tower. Whatever... How hard could it be? Right? Right???
So I yanked the cables out of the back of my old computer, slipped the new one into the cabinet, then noticed that none of the ports on the back of the Dell were labelled. There was nothing to designate which cable went into what port. I was left to plugging and hoping.
And that's what I did. If it fit a port, I shoved the plug into the hole. I turned the thing on, and miraculously, it lit up and opened in glorious Windows Seven green. The printer worked. Our telephones, which are routed through the computer, lit up and were completely operational. IN FACT, EVERYTHING WORKED EXACTLY LIKE ONE MIGHT EXPECT SOMETHING TO WORK WHEN ONE IS ACTUALLY EXPECTING THE WORST.
So I've spent the better part of the day logging all of my favorite sites and blogs back into my "favorites" list for easy access, and tomorrow I'll start moving some of my photos back over to my picture files. It's a long process, but at least I can access the internet without having to borrow a few minutes on my wife's laptop in the kitchen.
And you have no idea how happy that makes me. I can't type on that stupid thing, because my hammy fingers apparently don't "fit" laptoppy keyboards. And I'm one of those dinosaurs who needs a mouse to move a cursor. I don't have enough fingers on my hands to drag the icon around where I want it or something... If I had to live with that laptop as my only computer, I'd dump this blog and give up on-line life forever. I'd rather mow the grass than fight with that sumbitch...
Which is what I've been doing for the past few days, if you've wondered why this blog has been so quiet. I've mowed the grass a lot. And watched the Olympics. And stared out the windows at the birds. And bitched about my wife's laptop. A lot.
Actually, I've been a crabby bastard ever since this computer died in the office. I really should go apologize to her and the rest of the world for my shitty behavior lately.
But look! There are all these things to see on-line!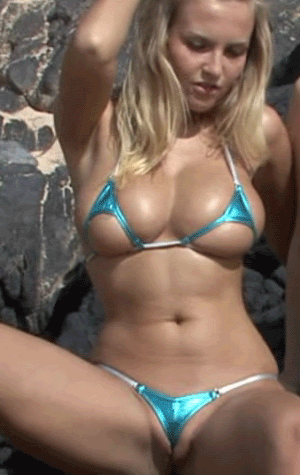 Later...